We are mindful that there are a number of environmentally sensitive areas situated within and surrounding the site. An overview of the approaches taken to mitigate against the impact of the redevelopment, and to ensure the long-term protection of the site and surrounding area is detailed under each topic below:
Ecology – A range of ecological surveys have been carried out during 2019 and 2020 identified the designations, habitats and wildlife that are currently present on site. Where these habitats could be affected, appropriate mitigation would be put in place.
Drainage – At present, drainage on site is managed via a combined gravity and pump system, with the pump system becoming active during periods of high tide. It is proposed that a similar system remains in place, with an additional function, which would clean the received water through a series of ponds and wetlands, prior to being discharged into the River Medway.
Flooding – Existing flood defence structures support the vast majority of the development area. These comprise concrete walls, steel sheet piles to earth embankments, amongst other structures. The height of these flood defences is sufficient to manage tidal levels associated with some of the most extreme present-day events, namely levels up to and including a 1 in 1,000 year chance of occurring.
To ensure the development remains free from flooding we are working closely with the Environment Agency to establish an appropriate flood defence strategy for the long-term protection of the site.
Landscape – Landscaping of the site would include mostly natural planting, with more formal planting along the access road.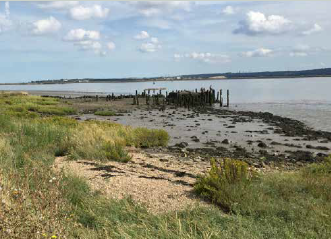 Sustainability – Any future development at MedwayOne would be in line with Government legislation, including Net Zero 2050 for greenhouse gas emissions.
Noise – A Noise Impact Assessment (NIA) will be undertaken using methods and criteria recommended within national planning policy and guidance. These assessments will focus on the levels above which adverse effects can be detected, and the levels above which significant effects can occur. The findings of the assessments and recommendations will be included in the NIA report that will accompany the outline planning application.
Air Quality – Detailed modelling of local air quality is currently underway to understand the potential impact on sensitive ecological sites and existing developments, for example, schools, care homes, hospitals, parks and residential areas, in the vicinity of the site and the affected road network. Mitigation measures will be proposed to minimise potential impacts.
Transport and Access – We are aware of local concerns about traffic on the Hoo Peninsula, and our team carefully considered possible measures for managing any additional impact of traffic as a result of MedwayOne.
Uniper have undertaken a transport assessment as part of our Environmental Impact Assessment (EIA) which was included as part of the outline planning application.
The results of the assessments we have completed to date, show that when considering a worst case traffic forecast, the site many generate approximately 500 – 600 two-way vehicle (cars and HGVs combined) movements at peak hours in the morning and evening. A Servicing and Management Plan would also be developed to manage the routes that the largest of vehicles would take to access the Strategic Road Network. This would ensure HGVs use the A289 corridor towards Junction 1 of the M2.
Although the nature of workplaces such as warehousing is such that shift patterns generally avoid peak periods, we have identified that junctions such as the Four Elms Roundabout could experience some additional delays.
Any improvement works to the public highway which may be required as a result of this development would be determined by Medway Council. We are aware that the Council is bringing forward new plans to deliver additional road infrastructure and consideration would be given to these improvements when assessing traffic mitigation for the site.
The planning application includes a Framework Travel Plan, detailing how future occupiers may use sustainable forms of transport to travel to MedwayOne. Future employers who occupy the site would be encouraged to use car share schemes amongst staff, provide cycle parking facilities and staff shuttle services to key areas. A cycle link on Eshcol Road connecting to the existing cycle network would also ensure cycle access and help to reduce travel to the site by private vehicle.